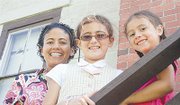 When her mother, Luisa Amanda Reyes, was diagnosed with leukemia in 1997, Grandview resident Nohelia Peterson and her family were devastated.
After help from the Fred Hutchinson Cancer Research Center, it wasn't long before she received a bone marrow transplant that eventually saved her life.
More than 15 years later, the family is enjoying their mother's presence, and Mrs. Reyes has been able to celebrate her daughters' weddings and the births of her grandchildren.
Peterson has dedicated the next few months to raising money towards research and a cure of this deadly cancer.
This Saturday, Sept. 22, Peterson, along with others, will perform at a benefit Christian concert to help raise funds.
The Leukemia and Lymphoma Society benefit concert and silent auction will begin at 6:30 p.m. on Saturday evening at the Sunnyside High School auditorium. Admission is free, but donations will be accepted at the door.
But Peterson isn't stopping there. She's also in training for a full marathon that will be staged on Sunday, Nov. 25.
"I am running this race in honor of God, through whom all things are possible; and for my mother," she said.
The 26.2-mile race is a fundraiser and Peterson's goal is to raise $3,000, which will be donated to the Leukemia and Lymphoma Society.
To make a pledge, visit http://pages.teamintraining.org/wa/Amica12/npetersddu.