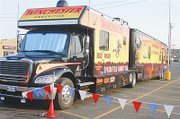 Sunnyside Ace Hardware partnered with a group known as the Elite Truck Event to bring a semi-trailer full of firearm hardware to town last Friday and Saturday.
Stephen Patterson of Elite called the semi a "75-foot showroom." He said he spends most of the year traveling with the semi and gun exhibit around the country.
For example, he trekked to Sunnyside from Great Falls, Mont. His next stop after leaving here, Patterson added, was to head back to Montana for another show there.
Chad Wattenbarger heads Sunnyside Ace Hardware's sporting goods department, and he says the weapons in the trailers were for display only.
If customers saw a model that interested them in the trailer, then they could come into the store and make a purchase or order a weapon.
The brightly-colored trailer in the store's parking lot brought a steady stream of visitors to check out the rig and the guns on display inside.
The Elite gun exhibit included rifles and pistols by a variety of firearm makers. The display ranged from Springfield handguns to Winchester rifles and even magnifying optics by Leupold.
"We're here to support the dealer," Patterson said of partnering with Ace.