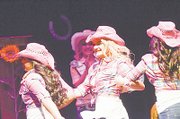 It's been a dream for her since pre-school and this past Saturday Madison Marquez's dreams came true.
She was, after an impressive showing from the 12 other candidates, crowned 2012-13 Miss Sunnyside.
She and the other contestants exhibited poise and confidence as they took to the Sunnyside High School auditorium stage. The opening act was an introductory routine to "Cotton-Eyed Joe," in keeping with theme of the pageant, Country Sunshine. It was a good old fashioned country dance that impressed all who attended the event.
The 13 candidates took to the stage during the freestyle competition, sharing with the crowd each of the planned community service projects they had in mind if selected Miss Sunnyside.
During the talent competition there was dancing, singing and skits that all wowed the crowd.
Marquez, the eventual winner, impressed the audience during the talent segment of the pageant with a monologue, called "Text Me." Dressed in jammies, situated in her bedroom, the young teen expressed disdain at her mother for keeping her from her Twitter account. She rambled about the importance of keeping all her followers up-to-date on her comings and goings, displaying proof that she has many followers.
The performance had audience members laughing throughout the newly remodeled Sunnyside High School auditorium, which was sold out for the Miss Sunnyside Pageant.
Marquez, the daughter of Scott and Tonya Marquez, plans to work with Sunnyside Community Hospital to develop a "Kids on the Block" program, teaching youngsters in the community about disabilities. She wants to help Sunnyside's youth understand disabilities to make them more comfortable and accepting of those who are different from them.
Because she earned the Miss Sunnyside title, her court will be focusing on the community project this coming year.
Crowned first princess this past Saturday was Jenny Hall, who impressed the audience and judges with an American Sign Language interpretation of the song "Skyscraper."
Vanessa Serna, crowned second princess, performed a Flamenco dance routine, and newly crowned third princess Josie Marro performed a skit as Tinkerbell all grown up.
The award for congeniality was presented to Aidee Cisneros and the contestant named most photogenic was Elizabeth Bobadilla.