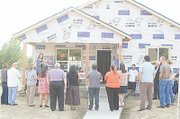 Helping youths not only serve their community hours in the county's juvenile court system, but also acquire a trade, was at the heart of a celebration last Saturday in Sunnyside.
The program works with youth in the juvenile justice system to build Habitat for Humanity homes.
The home in Sunnyside at 1119 Tacoma Ave. is their first.
More than 50 juvenile offenders have worked on the house, which is still under construction.
Robyn Berndt with the county's corrections department said Saturday's celebration was held last week because many of the youths are heading back to school.
Some are headed to college, while others have decided to continue on with the carpentry skills they learned on the project.
The partnership with Habitat for Humanity is part of a Restorative Community Service program the county's juvenile court system has established.
Through the program, youths completed their court-ordered community service hours, but also connect with adults who teach them about work ethics, communication and pride in accomplishing something that benefits someone else.
Construction on the house began in July.