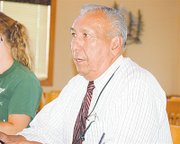 The Department of Labor & Industries is composed of a consulting arm and a compliance arm, according to Ray Benavides.
The consulting arm hunts down the "ghosts" that cause problems for businesses and gets rid of them, according to Benavides, while the compliance arm comes down hard on companies that break the law and then issues penalties.
As a consultant, Benavides considers himself a ghostbuster, and his job is to help businesses avoid costly penalties. His ultimate goal is to protect workers in Washington state.
"Everyone is entitled to a safe and healthy work place," said Benavides, speaking at a Sunnyside Chamber of Commerce membership meeting recently.
He explained how Washington was the first state to adopt a program protecting workers, and how the state led the nation in making sure workers stayed healthy.
Continuing that tradition, consultants from L & I are conducting outreach through workshops and free consultations with businesses around the state.
"Consultants go where they are invited," he said. "And we don't share our findings with anyone."
He described how two restaurants he consulted with didn't realize they were breaking safety rules. Thanks to his visit, they were able to fix the problems without penalty.
"A comprehensive consultation means the business will have no targeted inspections for a year," he said. He said that can help a small business quite a bit.
"Small businesses are at a higher risk," he said. "If you only have one employee and you lose them to a work place accident, that's 100 percent of your work force."
Benavides gave quick overviews of a number of programs to attendees at the meeting, including help for crime victims, wage assistance for preferred workers and templates to use for rules and guidelines required by law.
"You're not alone," he said. "L & I's mission is to keep Washington safe and working."