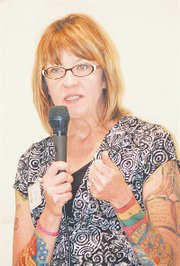 PROSSER - Nearly 15 years ago a young Kari Kelli was at the end of her rope.
Landing at a Spokane homeless shelter, Kelli told Lower Valley Christian Women's Connection group members last week about a caseworker at the shelter that suggested trying out a job at Christ Kitchen.
Christ Kitchen began as a way to get women back on their feet and provide them a meaningful Bible study.
"The caseworker told me I had to bag some beans and listen to a Bible study, but they'd pay me," she said. "I needed cigarette money, so I did it."
Christ Kitchen is a job-training project providing work, instruction, discipleship, support and fellowship for women living in poverty in the Spokane area.
Through the production and sales of gourmet dried food products and catered meals, this project enables women to learn to work, to become employable and eventually to support themselves and their families without reliance on government programs or destructive relationships.
After seeing the folks at Christ Kitchen, and the love and grace in their eyes, Kelli decided she wanted that, too.
It was a big change, as at 12 years old, Kelli had become addicted to several substances, including alcohol. At 15 she was married. Before long, she became a major drug dealer for the Mexican mafia.
Kelli says her encounter with Jesus Christ is like a rock and roll journey. She likens herself most like Bible character Lazarus. The man had died, and Jesus called him from his tomb and raised him from the dead.
"I remember that feeling, being raised from the dead," she said.
Kelli says her journey thus far with Jesus Christ has returned her children to her life, and she is grateful for God rescuing her from a lifestyle of destruction. Now, she loves working at Christ Kitchen with women, some in similar scenarios, to show them the love she was once shown.