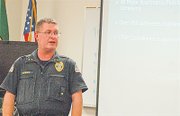 WAPATO - There was a time when Sunnyside families were afraid to play outside with their children.
But times are changing, according to Sunnyside Mayor Mike Farmer.
At this past Tuesday afternoon's Yakima County Gang Commission meeting, held at the Wapato School District office, Sunnyside Police Department members and Sunnyside city officials showed to present data concerning crime in Sunnyside for the year thus far.
In Sunnyside, according to local officials, police have recorded 244 documented gang members with a residence zip code of 98944 (Sunnyside's zip code), according to Sunnyside Deputy Police Chief Phil Schenck.
Schenck says the department has been implementing its gang elimination strategy. That includes intelligence-led policing, focused patrols through crime analysis and working with property owners to implement crime-free rental housing protocols.
"We know which crimes gang members commit," Schenck said.
Adding to that, Sunnyside Police Sergeant John Chumley told gang commission members officers look at how gangs recruit, how they finance their criminal operations and where their 'home base' is operated at.
Because a larger portion of gangs' finances are generated through drugs, and weapons are acquired through burglaries, officers have been cracking down on these crimes.
"More officers on the streets," Schenck said, crediting that to the drastic decrease in crimes this year.
Sunnyside Police Department Crime Analyst Courtney Percival told commissioners and visitors at Tuesday's meeting that residential burglaries are down from last year by 50 percent. Over a seven-year average, these crimes are down by 76 percent in Sunnyside this year.
Percival says Sunnyside non-residential burglaries, including businesses and other buildings like schools, are also down from the 2011 data through the month of August by 29 percent. General theft is down, too, by 11 percent.
Percival added that last year a record number of Sunnyside cops were assaulted.
"You can see that was a nationwide trend, too," she added.
Despite criminals attempting to fight back, major assaults, which include firearms, are down from last year's data by 28 percent. Weapons offenses are also down by 34 percent.
Schenck said a 68 percent increase in DUI arrests this year isn't because more people are out drinking. He says with the police department's inside knowledge of where drunk drivers' routes are, officers are catching more folks driving under the influence. Officers began to notice the perpetrators were traveling back roads.
"We changed our strategy on enforcement," he said.
Another part of a police department devoted to gang elimination is to get property owners on board with a crime free rental housing project, Schenck explained. Schenck says all apartments and mobile home parks in Sunnyside are complying with this program, with more than 450 addresses registered.
"Compliance is around 75 percent," he added.
Schenck attributes the high compliance rate to the department asking landlords what kind of program would best fit their needs.
"What can we do to help," was a question asked to local landlords. The program consists of offering assistance to landlords in helping them find good tenants, and weed out those who commit crimes. The police department has also begun offering Sunnyside property owners the ability to obtain local records to check for each tenant wanting to move into their homes.
Overall, Schenck says the police department has taken a suppression approach towards the gang issue in Sunnyside.
"Suppression feeds intervention," he said.
Sgt. Chumley says the goal of the police department is to cultivate a new generation of young people in Sunnyside.
"Who don't see gangs as their only option," he said.