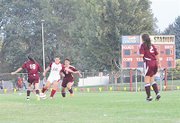 GRANDVIEW - Although the Toppenish Wildcats challenged the Grandview soccer team last night, the Lady 'Hounds shut the door on any hopes the Wildcats had of scoring.
Having home field advantage, Grandview prevailed 3-0 in the non-league match-up between the two Lower Yakima Valley foes.
The first two goals came in the opening half of the match.
Karissa Trinidad scored on an assist from teammate Marissa Caballero at the 4-minute mark, and it was Trinidad on the attack again in the 29th minute after teammate Irene Milanez supplied the pass.
"Karissa juked a Toppenish defender before depositing the ball into the back of the net," said Grandview Coach Anne Holden.
She said Trinidad nearly scored again when Oryian Matheny got the ball to her, however Trinidad's chip shot sailed high.
Matheny nearly got in on the scoring a few times, as well. She sent the ball over the crossbars on a couple of goal attempts in the first half of the match.
Trinidad was back at it again when she was able to get on the end of a cross supplied by freshman Irene Milanez but calmly "slot away" a right-footed shot that barely eluded the net.
The Lady 'Hounds entered the halftime break with a 2-0 advantage.
In the second stanza it was freshman Biviana Rivera who stole the show for Grandview.
She scored 15 minutes into the closing half after Matheny passed her the ball.
"Biviana confidently slid the ball past Toppenish's keeper, Elizabeth Garifas, after some fine lead-up work by Matheny and company," said Holden.
Marissa Caballero and Jamila Shafer, too, got in on the action. However, their attempts at the goal were turned away by Garifas, who recorded nine saves overall.
Grandview keeper Madison Trevino shut the door on two scoring attempts made by the Wildcats.
With this win, the Lady 'Hounds finished their non-league campaign with a respectable 4-3 record. However, league competition will begin in earnest when the Red Devils of East Valley step into the pitch at Rich Leenhouts Stadium this coming Saturday, Holden said.