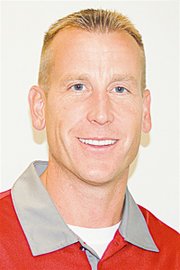 The school year's been fantastic," said Sunnyside High School Principal Ryan Maxwell, who took over the role just a few short weeks ago after being assistant principal for six years. "To me it's been a smooth transition."
It's a transition that's been in the works for some time, as former principal Chuck Salina's job at SHS was to develop the leadership of the school and prepare them for the future. In all ways, Maxwell feels Salina's work was a success.
"I feel very blessed," he said. "I took over a winning team."
Maxwell said the momentum is on the side of SHS's administration, and as a result, the students and teachers as well.
"There is a lot of trust between staff and students," he said. "In turn, teachers trust the administration to support them."
Maxwell's goals for the future are ambitious but simple.
"I'm a competitive person," he said. "We want to be the best we can be. In the last two years we've been working with half a school. Now that the school is coming online, watch what we can do."
His main concerns for the immediate future include the fact that the school's MERIT grant is running out and worries about potential changes to the common core, standards set by the state for all schools to meet. Both are challenges Maxwell feels the school is prepared to face.
"I believe we are on the right path," he said. "As the MERIT grant rolls out, we have to make sure we transition and maintain. And the work we are doing now is not going to be a huge transition to fit with the common core."
Maxwell admits he was a little uncertain what to expect as he took over leadership of the school.
"You're never fully ready," he said.