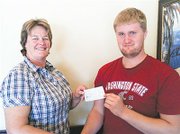 The Yakima Valley Dairy Foundation Scholarship was recently awarded to Chris Newhouse of Sunnyside.
A senior at Washington State University, he is pursing degrees in animal science and agricultural economics.
Newhouse comes from three generations of dairy farmers on both sides of his family.
In addition to his studies, Newhouse lives and works at his university's Knott Dairy Center, where he serves as a student herdsman.
Newhouse also is a competitor on Washington State University's Dairy Challenge Team, and is active in the dairy club.
He plans to work in and promote the dairy industry upon completion of his degrees.