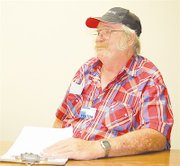 Meeting Wednesday afternoon, the Sunnyside Parks and Recreation Commission was updated on the status of several programs but was unable to take any action due to lack of a quorum.
Commission member Robert Van Horn gave the group an update of daily events at the senior center, noting most of the functions have been well-attended and appreciated.
Public Works Superintendent Shane Fisher updated the commission on the status of area parks, noting Upland Park is next on the list to be improved.
Commission member Dorothy Aiken spoke about next year's swimming program, stating that plans are in the works to implement the Red Cross swimming lessons program.
Interim City Manager Frank Sweet stopped in to tell the commission that revenues from the pool in 2012 were lower than expected and to praise Aiken for her input.
"We think we're going to rely on you guys a lot more as we go forward," said Sweet.
The commission originally was planning on waiting until February 2013 before holding another meeting, but Trish Combs, who has applied to be a commission member, suggested meeting earlier to discuss next year's plans for the soccer fields.
The group decided to set the next meeting for Wednesday, Oct. 17.