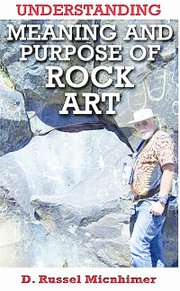 Despite the title, do not pick up "Understanding Meaning and Purpose of Rock Art" expecting a straight-forward explanation of what different types of rock art mean.
Instead, this is a book about what questions to consider when looking at rock art. It's a compendium of the possibilities, but it doesn't have the answers.
In fact, the author, D. Russel Micnhimer, argues that knowing those answers definitively is impossible without talking with the creators of the work. By asking the right questions a person can get to a satisfactory answer, but not a definitive one.
Despite being a slim book, a good editor could have made it shorter and easier to read without taking away any meaning.
Another flaw is the pictures, which are presented "unannotated so readers may draw their own conclusions as to meaning and purpose."
The problem is that most of the pictures have no context, so the reader is unable to judge the size or placing of the work. As the second chapter is all about location, it seems a bit unfair to the readers.
This is a thought provoking book aimed at people fascinated with rock art.