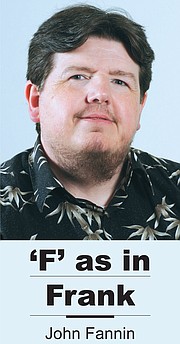 A work computer found at home. Workplace documents found at home or even destroyed.
Some would say that sounds like Frank Sweet.
Actually, that's me.
Several years ago the Daily Sun News decided to get rid of all its old Macs. Some were pretty ancient and were left on a table in the breakroom with a note for employees to take them home at no charge.
So, I have an outdated Daily Sun News Mac at home that's at least 10 years old, maybe older. I've used it for a bit of word processing, but not much else.
As for work documents, I do take them home sometimes to write up my stories - especially sport stories - ahead of time so my mornings aren't quite so hectic.
And, yes, I have destroyed e-mails and papers that were work-related.
There are those who say I should probably be destroying more of my work documents given my pack-rat tendencies.
I don't know if Frank Sweet is innocent or guilty, neither does the city council, nor do those who are calling for his head.
The post he held at Selah was in the public sector, of course, so there are differences to take into account when comparing it to private business workplaces like mine.
For example, a city is ill-advised to just give a computer to an employee, as Sweet claims happened.
Bottom line, though, the judge presiding at his initial appearance also found some of the charges lacking in evidence.
Also, I don't think it's a coincidence that Selah chose to press charges hours after Sunnyside was prepared to offer him the city manager post on a permanent basis.
The mayor who took office in Selah this year wanted Sweet gone from Selah City Hall. He got his wish in January, with a year's salary paid to Sweet in the process.
For Sweet to turn around and land an interim job here in Sunnyside just a few months later likely didn't sit well with some folks in Selah.
If Sweet is guilty, then he should go through whatever punishment is meted out.
If he's innocent - which he is until proven guilty - then it seems to me Sunnyside is best served to let this alleged Selah-gate mess play out before casting judgement.
By the way, to be fair, those of you calling for Sweet to step down need to also point your sights toward the Yakima County Courthouse. That's where you'll find Jim Hagerty, our county prosecutor, who is pursuing the Sweet case. Hagerty is the same county prosecutor who last November was arrested for suspicion of DUI after he rear-ended a vehicle in...wait for it...Selah.
If you're going to call for Sweet to step down because of his alleged Selah-gate, then you might want to target Hagerty for his.