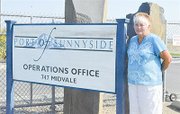 PORTLAND, ORE. - Port of Sunnyside Director Amber Hansen will next month be traveling to Vancouver to receive the Pacific Northwest Waterways Association's second-ever distinguished service award for promoting economic development.
Pacific Northwest Waterways Association is an advocacy group based in Portland, Ore. The organization a few years ago began recognizing people who have become leaders in this region at its annual convention.
Hansen said it will be the first time she has been present for the awards ceremony, which will be held in Vancouver on Tuesday, Oct. 9.
"PNWA is a major advocate for our (Sunnyside Port District) wetlands project," Hansen said, stating Pacific Northwest Waterways Association has lobbied legislators to help the Port of Sunnyside secure funding for the wetlands project currently being planned.
"They lobby heavily for barging and transportation on the Columbia River," she said of the organization, which often works to ensure transportation, trade and tourism, energy, environment and infrastructure is supported by the U.S. Congress and other lawmakers.
As to why Hansen is receiving the award for distinguished service, she said she can only guess the organization has witnessed the many projects Hansen has overseen throughout the past two decades.
"I think they are recognizing me for that work, but I don't really know," she said, adding the Port of Sunnyside has been a member of PNWA for many years.
The organization has been in place for more than 75 years, and led the way for authorization and funding for the construction of locks and dams on the Columbia and Snake rivers for navigation, hydropower and irrigation.
The Port of Sunnyside's wetlands project is just one of eight water projects PNWA is focused on. The group is also actively advocating for water storage in the Yakima and Walla Walla basins, supporting feasibility studies for off-channel storage alternatives.
"The group plays an instrumental role in helping those with a vested interest in the waterways accomplish goals and complete projects," said Hansen, who said she feels honored that she will be recognized for her work next month.