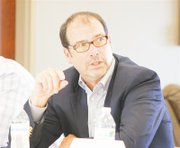 GRANDVIEW - The good news is that the federal government has not decreased transportation spending, according to Larry Ehl, publisher of the Transportation Issues Daily newsletter and website.
Speaking to the Driving Rural Yakima Valley's Economy (DRYVE) transportation action committee at a meeting Thursday in Grandview, Ehl addressed federal transportation funding and the differences between Washington state's two gubernatorial candidates on transportation issues.
The bad news is that funding is only known for the next two years, making it difficult to plan for projects.
Ehl predicts that federal funding for transportation will go down or be flat in the next few years, in part because fundamental issues haven't been addressed. He noted that more people are getting vehicles with better gas mileage or that use alternative fuel, which reduces revenue collected through gasoline taxes.
Ehl also talked about the specter of sequestration, a series of automatic cuts due to take effect Jan. 2, 2013, on transportation. He said the cuts would hit the U.S. Department of Transportation hard, taking between $1.5 and $2 billion from its budget alone.
Switching to the Washington state governor's race, Ehl said that he has been frustrated by the lack of information about transportation, so he asked both candidates if they would answer 12 questions about transportation.
To his surprise, both agreed and both answered the questions in ways that Ehl thought were "honestly and bluntly."
He compared their answers, which are available on his website, and said he thinks there are two main differences in the candidates' opinions. The first is on the issue of light rail, which Jay Inslee supports. Rob McKenna is a known critic of it.
The other is the issue of a transportation investment package. McKenna said he would push it through the legislature to get it out as a referendum to the people. Inslee's answer is to start by making people aware of what has been done so they would be more likely to support the package in the future.
After Ehl's presentation, the committee covered other issues, including electing a new chairman and firming up plans to man a booth at the Central Washington State Fair. There was also some discussion of the goal of creating a transit service for the Lower Valley.