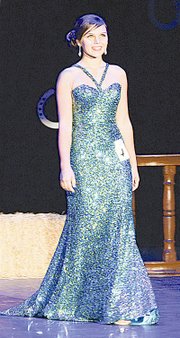 More than a decade ago, a young Madison Marquez remembers sitting in Miss Mary's preschool classroom ready to learn, when Miss Sunnyside Court princesses walked in.
Marquez remembers looking up to the girls in crowns and pretty dresses, knowing someday she'd want to be just like them.
Since the age of four Madi, as she's most commonly called, has been dreaming of wearing that Sunnyside crown. Last week, her dream came true as she was crowned 2012-13 Miss Sunnyside.
But for Marquez, it's not all about the glitz and glamour, the pretty dresses and the crowns; it's also about being a good role model.
Each year Miss Sunnyside contestants must choose a service project that they will complete if they indeed earn the queen's crown. It was an easy choice for Marquez after hearing about a project titled 'Kids on the Block'.
It's a puppet show that Miss Sunnyside Court will perform in local elementary schools. The story lines of the shows will include topics of social concerns, educational differences and disability awareness.
"It a way to make these issues relatable to the kids," Marquez said.
The premise of the project for Marquez is to combine her love for children along with spreading important messages to local youngsters.
But before last week, the project idea was just that; an idea. Now it's something she and her court must put into action.
This past summer, Marquez along with several other Sunnyside High School girls, prepared to compete in this year's Miss Sunnyside Pageant.
Practice, practice, practice was Marquez's motto this summer as she worked to nail down her freestyle speech, practice her monologue for the talent portion of the event and learn how to walk like royalty.
After several weeks of practicing alongside other Miss Sunnyside contestants, she says even if she didn't earn a crown, there would be ample experience to gain from the preparation process.
"It was a lot of fun, and I got to know girls that I didn't know before," she said.
When pageant night arrived, it was show time. With previous stage experience as a ballet, tap and jazz dancer, Marquez knew what to expect when stepping on the stage, but still felt as though she may be a bit nervous.
But when the spotlight and all eyes were on her, adrenaline kicked in and confidence exuded from within Marquez. She says it was a now-or-never type of confidence that couldn't wait to get out.
"The judges only get to know you for a short time, they don't see how you are outside of the pageant," she said. "You have to give it all you've got."
While getting to know and work alongside the other contestants all summer, the crowning ceremony was bitter sweet.
"Not everyone's going to make it, and you go into it knowing that," she said.
Most of all, it's a competition, and Marquez says she's excited to wear the crown and represent her hometown.
"I'm most excited to be more involved in the community," she said. "It's a great opportunity to get out there and meet all the people of our community."
She's also excited for the parades. And just last week, the new Miss Sunnyside Court got to take a dry run preparing for their first parade.
"I got to stand on the float and see what it felt like," she said.
The Miss Sunnyside title has already kept this high school junior busy, with serving coffee at a Nouvella Club luncheon, meeting with area preschoolers and preparing for a full month of activities and parades ahead.
"It's off to a quick start," she said.
While proudly wearing her crown and representing the city she loves, Marquez will also attempt to maintain her 4.0 GPA, which she's maintained for more than five years while taking AP courses at the high school.
Outside of the classroom Marquez also participates on the basketball cheer squad, along with the varsity volleyball team, all the while trying to earn a buck or two working as a barista.
This busy junior also finds time to be a part of the high school pep club, LINK crew and serves as the ASB assistant treasurer.
Most of all, Marquez wants to live up to the crown.
"I hope I will be viewed as a role model too, the way I looked up to the princesses when I was four," she said.
A role model, according to Marquez, is someone who's responsible, dependable, self aware and genuine. She says those characteristics are now more important than ever.
"You do what needs to be done before it's asked of you," she said of being responsible. "People expect you to be dependable, on time and there."
That's exactly what she plans to exude more than ever, now that she's responsible for representing her community.
Just a few short days after wearing her crown, the realization that she's somewhat of a celebrity is starting to sink in. When walking into a local preschool classroom, she first felt the ooo's and ahhh's of the youngsters admiring the crown and sash. Then, at school, classmates are approaching her that never had before.
"Some people I didn't know before are walking up to (congratulate) me," she said. "It's nice because I don't get to meet everyone, I don't have classes with all the students; it's nice to get to meet everyone now."
Marquez says she's ready for the year of royalty, excited to meet her Sunnyside neighbors and ready to represent her community.