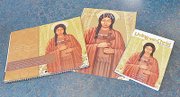 When Nellie (Kranz) Edwards and her family left Sunnyside, they didn't know what God had in store for them.
Edwards found He had great plans in store and it would result in recognition from unexpected places, as well as a trip to the Vatican in Rome.
The family owned businesses in Sunnyside and left the community for North Dakota several years ago.
Upon arriving there, Edwards said, the family wanted to turn their hobby of producing hand-casted designs into a full-time venture.
"We decided to build our new life," said Edwards, stating the family found a piece of property on which they could live and work.
The family business, known as Mother of Eight Designs, began as a hobby when the Edwards' were still in Sunnyside. However, it was quite successful and the family believed they could make a go of the hand-casting design business.
They operated the business for about a decade until the four oldest boys decided they wanted to start a tiling business. That was in 2005.
The Edwards boys were busy and received a commission from a church that required additional detail work. So, they approached Mrs. Edwards and asked her for help with the design.
She said she asked for a laptop so that she could make sure the dimensions would work and that laptop came with a painting program she found quite handy.
Edwards enjoyed using the program and found other uses for it. She thought there might be a way to give her hand-casted designs more detail through the painting program and that led to the idea of designing prints.
"There wasn't much of an artistry pool where we live," Edwards said, stating her work was well-received in the community and soon she had the opportunity to create prints for the International Peace Garden on the Canadian border.
"The computer tablet gives me an opportunity to channel my artistic side," Edwards commented, stating she suddenly felt inspired and felt God nudging her to design a print of Mohawk Indian Kateri Tekakwitha, who was baptized Cathering Tekakwitha by the Jesuits in the village of Kahnawake, south of Montreal, Canada.
That creation, which Edwards said could have only been divinely inspired, is what has recently led to a number of astounding events in her life.
"The inspiration was confirmed when I was invited to attend the Indian Congress," said Edwards.
She said her presentation was well-received as it emphasized the contributions Native Americans made that influence society.
"I had no detailed knowledge about Kateri, who is known as the Lily of the Mohawk," said Edwards, stating she remembers briefly hearing about the subject of her computer-generated painting when she was a student at Sunnyside's St. Joseph's School.
That memory, however, is of a brief mention of Tekakwitha, said Edwards.
She said she researched the religious laywoman and learned how Tekakwitha was the sole survivor of her family. The family all had smallpox and Tekakwitha was orphaned by the disease at age 10. She was disfigured, but the marks left from her affliction disappeared as she grew older.
Tekakwitha, said Edwards, refused to marry, believing she was intended to serve the people of her tribe.
Sadly, Tekakwitha only lived to the age of 24 after being shunned by her tribe.
She was beatified by Pope John Paul II in 1980, and Edwards recently learned the Vatican has been investigating a reputed miracle for which Tekakwitha was credited.
Over the past few years, Edwards has been approached for permission to use her painting of Tekakwitha in a 2011 calendar, on the front of the Knights of Columbus' magazine Columbia and on the cover of Living with Christ.
"The requests are further confirmation that there was a reason behind the inspiration," said Edwards.
Tekakwitha, said Edwards, is credited for the healing of a young boy who suffered from a flesh-eating disease. He was supposed to succumb to the disease, but was told to pray to the Mohawk Indian woman for healing.
His recovery stunned all who knew of his condition.
"It took six years for the Vatican to investigate," said Edwards, stating the Vatican officials determined the miracle was genuine and true.
As a result, Tekakwitha will be canonized on Sunday, Oct. 21, in Rome. Edwards will travel to attend the ceremony that officially names the Mohawk Indian as a saint.
Edwards said she feels honored to have been inspired by God to create the computer-generated painting.
"There is just no other way to explain it," she said.