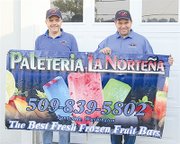 Anyone who has tasted an ice cream bar from a local vendor won't be too surprised to learn that Sunnyside's Paleteria La Norteña ice cream plant is a finalist for the UW Minority Business of the Year Award.
The company has been in business for 23 years, since starting up in 1989 in a small plant on Yakima Valley Highway. After moving to its present location just north of Bob's Drive In, on Rohman Street, the company opened a retail space as well.
Jesus Ramos, one of the company's founders, says Sunnyside has treated them very well.
"We appreciate the community for the support," he said. "They've been liking what we've been doing."
The award, now in its 14th year, is given to outstanding businesses by UW's Foster School of Business. The awards are presented in conjunction with the Puget Sound Business Journal and the winners will be announced at a banquet in December.
Ramos and his business partner Jose Mendoza plan to attend.
In the meantime, they are getting ready to close up their retail shop for the season in early October. They also have plans to improve their business in the future.
"We don't have a sign, but we're here," said Ramos. "We hope to have a sign soon so people can find us."
The ice cream shop, which sells homemade ice cream along with their popular bars, has gotten a lot of business recently. It is open seasonally, from March to October.
"You should come here in June or July," said Ramos. "We are really busy."
Whether or not they win the award, they will continue to provide Sunnyside with cold, tasty treats. Ramos said they feel they have a duty to give back to the community that's given them so much, and so they've supported local events when they can.
"It's been a good experience doing this business," said Ramos.