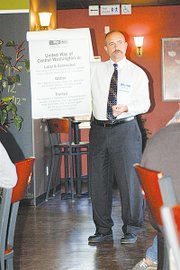 The United Way campaign kick-off for G2MOS (Granger, Grandview, Mabton, Outlook and Sunnyside) was held Tuesday night at Bon Vino's restaurant in Sunnyside, starting another year of giving for Lower Valley residents.
John Warren, Executive Vice President for the United Way of Central Washington, told the dozen attendees that last year the area raised $1.8 million, with more than 70 percent of that coming through payroll deductions.
"United Way is an organization that allows everybody to be a philanthropist," said Warren.
He spoke about the local connections of the organization while still being part of a trusted global entity. He told the group the focus of the organization is on education, income and health.
He said United Way isn't a service provider as much as it connects people to organizations that can help them, such as local food banks. A handout distributed Tuesday evening said that in the last year 4,896 people were served through the Mabton food bank and 18,147 through the Sunnyside food bank.
He also spoke about the people who complain and do nothing to fix the problems.
"Discussion is great, but if we can't commit people to actions, nothing will improve," he said. He challenged the group to commit through giving, advocating and volunteering.
He said many people give, particularly through payroll deductions at work. But in order to get more people to help, members of the community who know about United Way need to advocate for it.
"This year, take a few minutes and talk with people about how to make our area better," he said.
The meeting ended with people taking packets for United Way payroll deductions to deliver to local businesses.