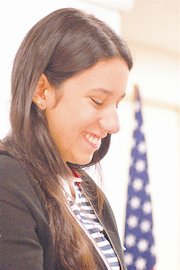 Sunnyside is a long way from home for Carolina Martins.
This Sunnyside High School Rotary exchange student came to live in Sunnyside for the 2012-13 school year, and this past Wednesday morning reminisced with Daybreak Rotarians about her home country, Brazil.
Martins hails from Belo Horizonte, where she lives among 3 million people.
She says the most popular sports include volleyball and soccer, and Brazilians look forward to two large festivals each year. Carnival is a six-day event in February where dancing and fun occurs, just before Lent begins.
Then again in June, Brazilians go all out for Festa Junia, with dancing and colorful clothes to celebrate the nativity of St. John the Baptist. The festival takes place in the beginning of the Brazilian winter.
She also says in Brazil, it's better to go to a private school, as the public schools aren't "good."
But, on the contrary, she says the public college is the best, over the private schools.
Martins says she's excited and happy to be at Sunnyside High School and loves her school and classmates.