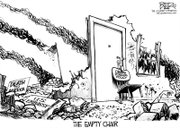 This past Monday I turned the big 2-7.
As I'm getting older, my birthdays are becoming even more special. It seems there's never enough time to spend with family and friends, but on special occasions it's the only thing I could ask for. As of late, I've never felt more loved and cared for by my family and friends, and I have to say, it's a good feeling.
But the Seahawks pulling out a win over the Green Bay Packers on Monday was the sweet icing to my birthday cake.
Green Bay is notorious for passing Seattle by far on the scoreboard, but not on my birthday.
Yes, we all know the final call was a bit, well, controversial. But a win is a win. The real shocker is that Green Bay let the Seahawks stay so close in this game...close enough that one questionable call allowed our Hawks to pull out a victory. It was a real nail biter, and a game even I jumped out of my seat a few times for.
So many people are up in arms about the so-called "controversial" call. But lest we forget, Seattle has been on the other end of bad calls more times than I can count. But the fact is, Seattle's defense really brought it home and defended their field.
Remember nearly six years ago when the Seahawks were robbed at the Super Bowl?
I'm still angry about that. But just like it was then, a win is a win. So, go Seahawks!