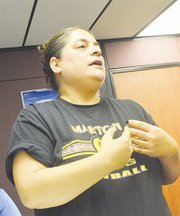 MABTON - At the request of Tawnya Ibarra and other members of a group intent on establishing a booster club for Mabton High School athletics, the Mabton School Board unanimously provided approval on Monday of this week.
Ibarra told the school board the group has sought to meet all criteria for establishing a booster club to benefit Mabton sports programs.
"The sole purpose is to promote and enhance high school athletics with the goal to eventually establish a scholarship program...but we're not there yet," she told the school board members.
Ibarra told the board the group received guidance from Business Manager Gina Grow, Vice Principal Susan Sartain and Athletic Director Brock Ledgerwood. Those school district employees helped the group, explaining what criteria must be met to establish a booster club.
The booster club members have obtained non-profit status and complied with much of the criteria. The one hiccup in the process, said Ibarra, is obtaining liability insurance because funds are limited at this time.
However, she said, she believed school board approval would help the group raise the funds necessary to obtain insurance because the community would see the booster club as a legitimate organization.
"We are trying to do everything legally and legitimately...we have even obtained legal counsel and I attended a webinar on Title IX," Ibarra said, explaining the group is willing to go above and beyond the requirements necessary for the community and the benefit of the students involved in athletics.
She said the booster club membership is just $1 per year and the club is hopeful there will be enough members that fundraising efforts will give them opportunities to expand their capabilities within the community.
School Board Director Angel Tovar was absent last night, but the remaining three school board members approved the booster club and its bylaws by a 3-0 vote.