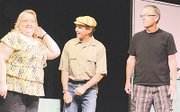 PROSSER - The Over the Hill Theatricals fall production of "Bye Bye Birdie" will be staged at Prosser's Princess Theatre, beginning Saturday, Oct. 6.
Opening night, the curtain will rise at 7 p.m. Those missing that night's performance can enjoy a Sunday, Oct. 7, matinee at 3 p.m.
The principle cast members of the production include Doug Hansen as Albert Peterson, Kristi Tuor as Rosie Alvarez, Linda Key performing as Kim MacAfee, Paul Brooks portraying Hugo Peabody and Brad Smith as Conrad Birdie.
Ron Jetter is cast as Mr. MacAfee and Susan Webber serves in the role of his wife. The MacAfee's young son, Randolph, will be portrayed by Mark Reynolds and Mae Peterson is portrayed by Karen Santos.
The production is being co-directed by Patrick Walsh and Dan Santos.
Bye Bye Birdie is set in the late 1950s. A young rock star, Birdie, makes an appearance in a small town located in the Midwest, stirring up the locals.
The mixture of excitement and disdain over the celebrity's presence sets the Broadway show on a platform of comedic proportions.
Audiences are urged to take delight as the cast members transform themselves from mature adults to giddy teens and frustrated parents living in Sweet Apple, Ohio.
Tickets for the musical are available at Sunnyside's Daily Sun News office, Grandview Safeway and Sixth Street Gift Shop and Art Gallery in Prosser.
Ticket prices are $10 for adults and $8 for children under the age of 12.
Additional performances will be staged Friday through Sunday, Oct. 12-14. Show times are 7 p.m. on Friday, and 3 p.m. on Saturday and Sunday.
For additional information, email patwalsh@wildblue.net or call 509-406-3464.