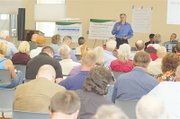 GRANGER - Call it a line drawn in shifting sand, as federal officials yesterday claimed dairies are responsible for 65 percent of nitrate-tainted groundwater in the Lower Yakima Valley.
That was the pronouncement yesterday, Thursday, during two public meetings the Environmental Protection Agency (EPA) held in Granger to unveil results of a recent groundwater study.
Yet, agency officials stopped short of a firm line against the dairies because their research lacked data such as how the five dairies surveyed lined their lagoons.
Tom Eaton is the EPA's director for operations in this state, and he says the dairies, while allowing the agency to sample their wells, declined to provide other requested information.
"It was a pretty detailed list we asked for and they declined, which is their legal right," Eaton said after the first of two meetings held yesterday.
The upshot is that EPA officials yesterday only went as far as noting dairies - as well as crop fields which they say account for 30 percent of the contamination - are "likely sources of nitrate pollution" in Lower Valley groundwater.
It's a hot-button issue, as EPA studies show about 20 percent of the wells in the Lower Valley's rural areas have nitrate levels that exceed federal safety guidelines.
High nitrate levels can be especially harmful for infants, pregnant women and those who already have health issues.
The issue is close to home, too, as high nitrate levels have been found in Outlook, Mabton and other private wells just outside of Sunnyside.
Because of incomplete data, though, the EPA is looking to a cooperative effort with the five dairies rather than enforcement action.
Even so, it's not like the dairies and EPA are in lock-step on the issue.
While declining to give specifics of his agency's work with the dairies, Eaton noted it's somewhere between a full-on collaborative effort and enforcement. He says the goal is to come up with an enforceable plan of action within 60 days.
Aside from kudos expressed by state and federal officials in a press release, the study released yesterday met with criticism by all sides during public comment from an audience of about 100 people at the first of two meetings Thursday.
"Industry does not have the right to pollute our waters," Jan Whitefoot of Harrah said in calling for a firmer stance against dairies and crop fields. "This is why we're in the position we are. We want to know what the EPA is going to do about it."
Dan Coder of Zillah agreed.
"If there's a lot of bleeding you don't put a band-aid on it, you go to the source," Coder said. "People are getting sick."
David Haggith is a private consultant for farmers in Whatcom County, and he travelled all the way to Granger yesterday to say his piece.
He told the EPA that dairy practices have become much safer over the past 40 years. He feels the nitrates found in groundwater are likely a "legacy issue" from past farming practices.
Criticism of the study even came from dairies who participated in the research.
"At this point we have serious questions about the data and assumptions EPA used to compile this report," said Henry Bosma, a co-owner of Liberty Dairy.
George DeRuyter and Sons Dairy was another of the five dairies involved in the study. That dairy's co-owner, Dan DeRuyter, also expressed concerns, noting his dairy exceeds regulations with an anaerobic digester that benefits the environment.
While disagreeing with the results, DeRuyter, Bosma and Adam Dolsen of the Cow Palace Dairy - which was also included in the study - say they will work with the EPA.
"Despite these questions, we'll continue to roll up our sleeves and work with EPA, other stakeholders and all our neighbors to ensure this region has clean drinking water."
Besides working with the dairies, the EPA also plans to help the Yakama Nation address its groundwater issues.
Eaton, a member of a groundwater management advisory group that meets monthly in Sunnyside, also indicated there will be continued monitoring of the Lower Valley's groundwater quality.
The EPA will accept public input on the report until Nov. 30.
A copy of the report can be viewed at report: http://www.epa.gov/region10/pdf/sites/yakimagw/nitrate_in_water_wells_study_9-27-2012.pdf