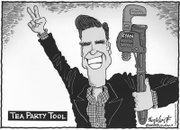 Growing up, learning that not everyone is like me taught me I won't always agree with others, but that's okay.
I think the lessons of my childhood shaped who I am today. I know I can be a firecracker when I get wound up about something. Sometimes I am downright passionate about an issue and I can let my anger rise to proportions that shock those around me.
For the most part, however, I try to consider the other side of an issue. I don't believe others necessarily have to agree with me, although I would like them to.
The recent scuffle between the Yakima County Democratic Party chairman and 15th District legislative candidate is a prime example of how tempers can rise and things quickly take a turn for the worse when two parties cannot see eye-to-eye.
I wasn't there so I can only rely on the accounts that were provided to the police.
However, I think there must have been more to the story than what actually occurred on the day the two Democrats came to blows with one another.
In the story published earlier this week, the statements provided to police imply a rift occurred because of a dispute over whether or not to support the unions.
These people represent local interests, not national interests, and I think if one of the parties did not feel comfortable with a certain platform, that was their prerogative. I am of the opinion that the candidate must stick to his or her guns when it comes to a campaign. The party has a right to stick to what it believes, as well.
All too often I hear of national candidates who do not lose the support of their party just because there is an issue on which they disagree. A Republican candidate who believes in pro-choice, for example, does not lose the support of the Republican party on that one issue alone.
So, I was disheartened to hear that the Yakima County Democratic party withdrew support for its 15th Disrict candidate. I think the candidate and the party should have been able to agree to disagree without allowing things to become so heated.
I advise anyone to think before you act, try to view an issue from both sides and allow cooler heads to prevail. You never know, there may be a reason to find the middle ground.