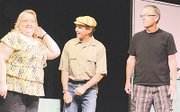 Sunnyside girls soccer coach Sylvia Villagrana couldn't be more pleased with how well the Lady Grizzlies and 2A Wapato played last night.
It was Sunnyside that earned the 3-1 non-league victory, but she credits both teams for playing with heart.
The Lady Grizzlies opened up the scoring at the 27-minute mark. Jessica Galvan of Sunnyside scored the goal off an assist by Vianca Madrigal.
"The ball was dribbled into the mid(field) area of the 18-yard line by Vianca, which was given off to Jessica," said Villagrana.
Six minutes lapsed before Sunnyside was awarded a penalty shot thanks to a defensive foul committed by the Wolves.
Susana Arreola of the Lady Grizzlies took advantage of the opportunity and booted the ball into the back of the net to give Sunnyside a 2-0 advantage.
That score stood through intermission, but Wapato wanted a taste of the net.
"The girls knew at the half they were going to need to really push and not let down because Wapato was going to push just as hard as we were," Villagrana said.
The Lady Grizzlies were right because it took the Wolves just four minutes into the closing half to score their one and only goal of the match.
Wapato's Jasmine Garza gained control of the ball at the midfield area and delivered a pass to teammate Maddie Reyes, who shot the ball past the crossbars.
Five minutes later the Lady Grizzlies placed pressure on Wapato's defensive players and broke through to get the ball within scoring range. Alexis Aguilar of Sunnyside connected with teammate Marisol Gomez, who capitalized on the opportunity to score her first goal of the season.
Wapato recorded a total of 14 shots on goal, and Wapato keeper Elie Martinez was also kept busy, preventing the ball from making it into the back of the net 10 times.
Lady Grizzly keeper Macenzie Butler was also busy. She shut the door on the Wolves' offense 13 times, while her teammates made 17 attempts at scoring on the opposite end of the field.
"I asked the girls to not let down and to really push themselves as best they could...the girls did well," said Villagrana.
The Lady Grizzlies (1-3, 3-4-1) will next Tuesday, Oct. 2, host Wenatchee for a league match-up.