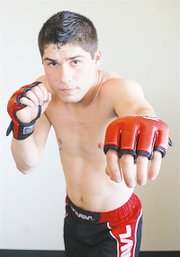 Throughout his years at Mabton High School, Josh Strickland lived a secret life that didn't come to the forefront until his senior project in 2011.
"Everyone knew me as the basketball player or the football player," he says. "But my passion was mixed martial arts." He credits a relative for igniting his interest in mixed martial arts.
There were plenty of surprised folks - including his own mother - when he unveiled the secret during his senior year.
"I kept it to myself all that time because in a small town I didn't want to take a chance on people wanting to fight or asking me to prove it," Strickland says.
Now a student at Eastern Washington University, Strickland has continued his pursuit of mixed martial arts, also known as MMA for short.
He says it's not about fighting or beating up on people, but the skill and versatility required to master disciplines ranging from boxing to Judo and Tae Kwan Do.
He still has an amateur status with an official record of 1-0. Sometime next year, the 145-lb. featherweight says he'll turn pro - either after he's won his seventh match or turns 21, whichever comes first.
Strickland's standing may be that of an amateur, but he's all in when it comes to preparing himself for matches coming up next month in Tacoma and Spokane.
His training is so extensive that Strickland is actually rehabbing a knee he injured during practice.
Even with pro status on the horizon, Strickland says it's more about excelling in a sport than prize winnings.
He notes a pro MMA fighter generally earn purses ranging from $400 to $800 per fight, though some do generate more - up to $3,000 per match - with sponsorships.
It's not the kind of money to support a person or family, especially considering the time commitment needed to prep for each match.
But it is enough to keep an MMA athlete in competition and help with costs associated with the sport, such as traveling and workout sessions.
The bottom line, says Strickland, is he's "...having fun with it."
Now more than a year since he broke his big secret, Strickland's mother - Tawnya Ibarra - is one of his biggest fans.
"My mom was caught off guard," he smiles. "She loves me and she's supportive. She asks how I'm doing, but she can't bear to watch me fight."
Strickland says he fights for the love of the sport as well as his mom and his hometown.
He fights for friends like Chuy, Mychal, Ben and the Partida family.
"I'm not just fighting for myself but for my family and friends," Strickland says. "I want to represent the community of Mabton well."