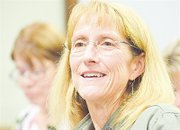 The Sunnyside School Board last night approved a memorandum of understanding that combines the management and coordination of activities associated with implementation of three community initiatives.
The agreement supersedes past agreements between the city of Sunnyside, Sunnyside School District, Sunnyside Community Hospital and Port of Sunnyside.
Dr. Rick Cole, superintendant of schools, said the memorandum of understanding presented last night was developed after revisions made by Port of Sunnyside Attorney Steve Winfree and counsel for the city of Sunnyside.
However, said Cole, the board may see future revisions since there are four entities that must agree to the guidelines of the agreement.
In place, according to the agreement, will be an advisory team, consisting of no less than 12 members of the community who represent behavioral health, business, civic or volunteer organizations, education, faith-based organizations, health care, law and justice, local government, the media, parents, youth and youth-serving organizations.
The three community initiatives to be managed and coordinated include the city of Sunnyside's gang-free initiative, the Department of Behavioral Health and Recovery Prevention redesign initiative, and the Sunnyside Community Hospital-Sunnyside School District student health center initiative.
Cole said members of the core conveners interviewed candidates for the coordinator position to oversee the work groups and are recommending Cathy Kelley for the position.
Kelley was present last night and said, "This effort will involve coming together to be successful."
She said she was pleased to be selected to serve in the capacity of project coordinator, and she is looking forward to working to meet the goals of the community initiatives.
School Board Director Michelle Perry has been a representative for the school district during the meetings held between the four entities named in the cooperative.
She said, "The goal is to really work together rather than as separate of one another."
Perry said there is a true focus of the group and she is pleased at the determination to meet the goals of the community initiatives.
The Sunnyside School Board approved the memorandum of understanding by a 5-0 vote.
Kelley's position was also unanimously approved during the school board's consent agenda.