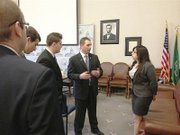 OLYMPIA - Each year, a select group of students and teachers from the 15th Legislative District make the trek to Olympia to tour the state capital, attend committee hearings, visit with legislators and have lunch with Rep. David Taylor, R-Moxee.
Taylor, who pays for and has sponsored the two-day event for the past four years, says it's a good way for him to stay connected to his legislative district during the long session and a great way for local students to learn firsthand what being a legislator is all about.
"It's been exciting to meet the students and teachers over the years and be able to show them exactly what we do on a daily basis here in Olympia during session," said Taylor. "It's one thing to talk about the legislative process, how a bill becomes a law, and the checks and balances of our form of government; it's another thing entirely to see it up close and in person."
Taylor said he allows the schools to determine which students get to participate each year.
"Whether it's through a grading system, a writing project, a civics lesson or significant extracurricular achievement, the students that participate need to show some initiative and interest in public policy, civic involvement or government in general," said Taylor. "The young men and women who were chosen this year were outstanding. It was a pleasure to meet them and see their enthusiasm. I know they'll remember this experience for the rest of their lives and I trust it will help shape their level of community involvement going forward."
Last week, two students from Grandview High School, Sonia Orozco and Esmeralda Hernandez, accompanied advisor Shelby Hall to Olympia for the two-day event.
"It was so exciting to see the places and walk through the halls of buildings that we hear our teachers talk about in class, but seldom actually get to visit," said Orozco. "I also enjoyed hearing the legislators debate and explain their positions on issues."
"I think my favorite part was touring the Temple of Justice and seeing where the state Supreme Court meets and deliberates on cases," said Hernandez. "The library there is one of the biggest libraries I've ever seen. I could spend a lot of time reading the books in that library."
Two students from East Valley High School also attended, Gabe Abbott and Andres Nielsen, accompanied by advisor Nathan Whittle.
On Wednesday of last week, the entire group was escorted into the House Republican Caucus room, a place where strategies are hashed out, positions on bills are taken, and lobbyists are not allowed to visit.
They addressed the legislators and then had their picture taken with Rep. Taylor on the House floor.
"Both the kids and the teachers were fantastic this year," said Taylor. "The folks back home should be proud of the way they represented our district."