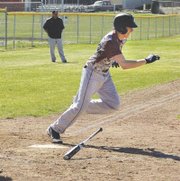 GRANDVIEW - The Greyhounds couldn't manufacture any runs against a hard-hitting West Valley team this past Saturday and ended up losing both ends of a doubleheader to the Rams.
Grandview's Erik Sauve started the first game and was tagged for six runs in two innings of work. Reliever Martin Sanchez gave up three more runs in the top of the third but then held the line until the sixth inning, when West Valley went on a tear and scored another eight runs to finish off any hopes of a Greyhound comeback.
West Valley won the first game 17-0 with 12 hits to Grandview's three hits.
Edgar Delgadillo was 2-for-3 in the game. Derek Swearingen got the Greyhounds' other hit.
In the second half of the doubleheader, Swearingen started on the mound for the Greyhounds and was rocked for seven runs in the first two innings. He settled down and the third and fourth innings were quiet, but the Rams came back to score another run off Swearingen in the fifth. With West Valley up 8-0, reliever Anthony Ramirez came in for Grandview and gave up another three runs in the top of the sixth.
The Rams finished the second game with an 11-0 win. West Valley had 11 hits to Grandview's three.
Sauve was 2-for-3 for Grandview in the second game with a double. Also getting a hit was Chet Bardwell.
The Greyhounds (2-4, 3-5) will be headed to East Valley this coming Saturday for a doubleheader.