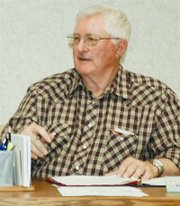 For the second time in two weeks, Port of Sunnyside commissioners have decided to pursue grant/loan funding through Yakima County's Supporting Investments in Economic Development (SIED) funds.
Jed Crowther is the port's property development and project manager and, in comments to commissioners Monday night, said he received encouragement from SIED officials to seek funding for work on the port's industrial wastewater treatment plant.
The SIED board, which decides on funding applications, convenes irregularly, said Crowther. Its next meeting is April 18.
The resolution commissioners approved last night didn't specify what kind of work would be done at the plant.
"It isn't defined other than an engineering and construction project," Crowther told the Daily Sun News this morning. "It will become known as we move forward. It's a timing issue as much as anything. We just needed to get the application on the SIED docket."
Crowther did note that upgrades at the wastewater plant "have been envisioned for years."
He says expanding treatment capacity at the plant is an example of the long envisioned upgrades.
The port's plant treats wastewater for several large industries in Sunnyside, such as JM Eagle and Darigold.
The port didn't indicate a dollar figure that it will seek in the resolution commissioners approved last night. Crowther said that will be forthcoming once the formal application is submitted to the SIED board.
At their meeting on March 18, Port of Sunnyside commissioners gave the go-ahead to apply for SIED funds to expand a rail spur near Midvale Road. Initially constructed a little more than two years ago, the spur supports Bleyhl's propane storage site.
The port owns the rail spur, which it leases to Bleyhl.
This morning Crowther confirmed that the rail spur application involves a total of $315,400.
The proposal seeks a $206,550 loan, a $68,850 grant and offers a $40,000 in-kind match provided by the port in the form of land and management.
If SIED officials approve funds for the rail spur application, the goal is to have the expansion in place by this fall to meet anticipated increases in propane demand.