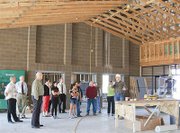 The Sunnyside Christian Reformed Church has been around for 81 years, according to Leroy Werkhoven, speaking at the Sunnyside Noon Rotary Club meeting on Monday.
It's had three buildings in that time, but the most current is a little small for the church's needs. With 170 young people, the church has been turning to other church buildings and people's homes to hold programs.
The current building also doesn't have enough office space, so the administration of the church is spread out over multiple places.
A new building that is currently being constructed has spacious offices that will hold all the church records.
Werkhoven, who led the Rotarians on a tour of the building that is beginning to take shape, said one thing most of the congregation is looking forward to is proper heating and, more importantly, air conditioning.
"We have a beautiful sanctuary, but it can get very warm in there," he said.
He told the Rotarians that the church had considered expanding its existing building, but new requirements for parking would have meant the church would need to buy up six nearby houses to make the room for it.
"It was less expensive to just start over," he said.
The new church building has been eight years in the planning, and Werkhoven said that most needs of the church were addressed. In addition, the building was designed so it could be expanded in the future if funding became available.
In the sanctuary of the new church, the floor is still unfinished dirt. Werkhoven pointed out the size and shape of the room to the group.
"This is wide and shallow compared to long and narrow, like in traditional church construction," he said. "No one will be more than 35 feet from the pastor during services."
He mentioned that the pews are expected to arrive this Wednesday.
The group also visited the second chapel, which will allow for Spanish language services to be conducted at the same time as the English services.
"We want to have both services finish at the same time so the congregations can mingle in the main foyer," Werkhoven said. "We want it to serve as a gathering place for the church."
The new building also has a large kitchen, a library, multiple classrooms and a youth room next to a gymnasium. The pre-school and the nursery are planned with the safety of the children in mind. Werkhoven also noted the new bathrooms will meet ADA standards.
The walls of the church are being finished inside and the electrical system is still being installed. The goal is to have the building finished toward the end of June or the first week in July.
"We have a wedding planned for the second week in July," said Werkhoven. "We really hope it will be done by then."