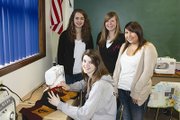 A kids carnival, BBQ pulled-pork sandwiches and even homemade crafts are all in store next month during the Sunnyside Christian School Booster Club's 33rd annual auction.
Set for Saturday, May 4, at Sunnyside Christian High School, doors will open for the event at 4:30 p.m. followed by a dinner at 5 p.m. that features pulled-pork sandwiches, corn, coleslaw, baked beans, ice cream and milk, water or coffee.
New this year is a kids carnival to entertain the youngsters. There will also be baked goods and dessert by the slice available for purchase.
A silent auction will take place throughout the evening, but the highlight starts at 6:30 p.m. with a live auction of items that include tickets to Seattle Mariners baseball games, furniture created from wine barrels, a family fun pack to Woodland Park Zoo and tickets to a Broadway show at the Capitol Theatre in Yakima.
In addition, Sunnyside Christian High School students are getting involved in the auction. The school's home ec class in conjunction with the art class created a quilt for the live auction.
The theme of this year's banquet/auction is "We are Living Stones," taken from I Peter 2:5.
Diana Puterbaugh is one of the volunteers organizing the auction, and she says the booster club's goal each year is to raise enough funds to help Sunnyside Christian School make large purchases.
This year, for example, the goal is to generate enough donations to purchase a school bus, portable laptop carts for the elementary and high school campuses and update playground equipment.
Tickets are $12 per person if purchased ahead of time or $15 at the door. For more information or to purchase tickets, contact Puterbaugh at 830-0937, Brenda Prins at 837-4242 or Sonya Faber at 837-3642.