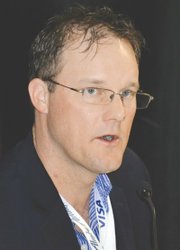 SEATTLE - A celebration of the 30th anniversary of the Yakima Valley wine AVA's founding was a highlight last week during the annual Taste Washington event at the CenturyLink Field Event Center in Seattle.
Honoring the Yakima Valley's place in history as the Pacific Northwest's first AVA occurred at Taste Washington during a 90-minute seminar featuring winemakers and experts from around the state.
One of the featured seminar speakers was Todd Newhouse, owner of Upland Winery near Sunnyside.
Newhouse, also general manager for the vineyards at Upland Estates, told seminar attendees that Lower Valley agricultural pioneer Bill Bridgman was the "grandfather of Washington wine."
Newhouse added, "Without him, I can't imagine how far behind our regional wine industry would be at this time."
In comments for the Daily Sun News, Newhouse elaborated on Bridgman's place in Pacific Northwest wine history.
"He was the first to commercially plant wine grapes in the state," Newhouse said, noting Bridgman's push in the 1930s to grow grapes for European-inspired table wines was in contrast to the sweet, fortified wines popular in the day.
Some of those first wines produced by Bridgman included Riesling, Muscat and some Pinot Noir, Newhouse says.
He said a big step forward towards the wine industry the valley knows today occurred in the 1940s when Walter Clore at the Prosser extension center began to share Bridgman's interest in European-style wines and European wine grapes.
In fact, Newhouse notes, Bridgman donated wine grape cuttings he acquired from Europe for Clore's groundbreaking work in Prosser.
"Without Walt our (state wine) industry would be 10 years behind and without Bridgman we'd be 10 years behind that," Newhouse said.
The pair's hard work started reaping significant dividends for Washington wines in the mid-1960s.
"The balance tipped then," Newhouse said. "At that point it was 50/50 for table wine and sweet, fortified wine purchases. After that the table wines took over more and more."
He feels the big selling point that sparked consumer interest in the European-style wines was when the public realized they were suitable to offer before, during and after meals. In contrast, the sweeter wines had a more limited variety and were basically consumed after meals.
Newhouse has an interest in Bridgman's story not only as a winemaker, but also because he literally follows in the pioneer's footsteps at Upland.
"Bridgman started Upland vineyards and Upland Winery," Newhouse says, noting it was his grandfather Alfred who acquired Upland in the years after Bridgman died.
But Newhouse, whose father Steve owns Upland Vineyard, is not only growing grapes and making wine in the shadow of where Bridgman did his pioneering work for the region's wine industry. Newhouse is also a pioneer. That's because in 2007 he was successful in having the Snipes Mountain area designated as its own AVA apart from Yakima Valley because of that area's unique geologic features.
Newhouse says he and wife Amber are glad to have opportunities to share Bridgman's legacy and the link to the Newhouse family's work at Upland today.
"I've been able to tell the story to a wide audience," he says.
Newhouse says Bridgman would be tickled at how the story is unfolding today. "I think he'd be pleased and happy that he chose a good spot to start it all."