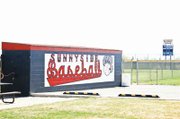 Megan Schlenker spent her last two spring breaks from college home in Sunnyside painting murals at the high school.
Schlenker is a 2010 graduate of SHS studying graphic design at Eastern Washington University. Last year she decided to give a little back to the school by painting a mural on the baseball field dugout at the high school.
"My brother plays on the baseball team," she said. "I spent my spring break last year painting the mural on the back dugout."
People really enjoyed the art, particularly the grizzly paw holding a baseball. Schlenker was invited back to paint the other dugout this year.
"The first one I did freehand," she said. "I knew this dugout faces the road and will be more visible, so I measured it carefully."
She said she spent five hours just measuring to make sure her placement was correct and all the letters were the same height.
The inspiration for the letters came from her brother's baseball cap, and the underline on the word "baseball" comes from the style of many baseball jerseys.
"I wanted it to stand out, so I painted it on white," she said. Schlenker succeeded, the dugout is clearly visible to vehicles passing the field on 16th Street.
She said the whole job took her four days, Monday to Thursday, about 30 hours total. She used a 3-inch brush to keep the precision, requiring a little more time but making certain the job was done right.
Her brother wanted the mural done in time for the Grizzlies' game last Thursday. Schlenker said she finished about an hour before the game started.
"It was still wet," she said, laughing. "I kept telling people not to touch it."
She said she is happy with the work.
"It's something that I'm really proud of," she said. "I feel like I gave something back to my school."