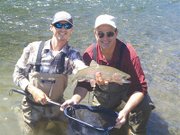 ELLENSBURG - Trout fishing in the Yakima River and gourmet river lunch floats are all in a day's work for Randy Crimp, a 1999 graduate of Sunnyside High School.
Crimp is a fly-fishing guide for Trout Water Fly Shop located in Ellensburg and Cle Elum. Now that spring is here, he says the busy season is getting underway.
From now through October he'll be leading guided river trips for fly-fishing. Crimp says he primarily does his work in the Yakima River from Roza up to the Cle Elum area.
But his work also takes him to the Klickitat, Wenatchee and Methow rivers for guided tours.
In addition, the company he works for is contracted by Suncadia, a resort near Roslyn, to provide water and rafting activities. Those include gourmet riverside lunches and rafting trips up the river for guests at the resort.
Crimp says a benefit to working out of the Yakima River - "our home waters," he calls it - is that the river is open to catch-and-release fly fishing year-round.
Even so, he says the business tends to slow down over the winter. As a result, he takes on other jobs ranging from working in Hawaii to serving in an Ellensburg tavern.
Crimp also recently opened his own sportswear shop in Ellensburg, Royal Sports. "I always wanted to do something like that," says Crimp, who has a business degree from WSU.
But his first-love, avocation and vocation, are those guided fly-fishing tours.
He credits his experiences growing up in Sunnyside for his lifelong interest in the sport.
"When I was seven or eight years old an uncle got me involved in fly fishing," Crimp says. "He used to take me and my cousin out on the river and I totally got hooked on it."
From there, he says he started tying flies, and even took classes through a parks and recreation program the city of Sunnyside offered at the time.
"I was 10 or 12 years old and it was me and five or six retired guys in the class learning to tie flies," Crimp laughs.
But thinking back to his days in Sunnyside isn't just a guided trip down memory lane for Crimp. The fly-fishing lessons he learned from his uncle and the city of Sunnyside are with him still.
"All those classes were awesome," he says. "I still use tips from those classes to tie flies today."