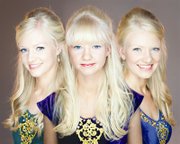 Live music! There's nothing else like it. The Lower Valley Community Concert Association has been dedicated to bringing live performances to our area since 1947 and will continue that tradition with five concerts for the 2013-14 season.
Beginning the series on Oct. 10, 2013, pianist Jason Coleman makes a return performance playing songs in the style of his legendary grandfather, Floyd Cramer. Coleman has been entertaining audiences for many years, not only with his playing, but by telling personal stories of special memories of his grandfather and the songs he made famous.
On Nov. 24, 2013, Evan Marshall, a true master of the mandolin, will play classical, Italian and traditional American folk songs. He has recorded five solo CDs and performed in pops concerts with symphony orchestras across the country as well as on "A Prairie Home Companion."
Classical pianist and composer, Andy Feldbau, will perform in Sunnyside on Feb. 12, 2014. He is a young rising star, who has appeared in many U. S. cities (twice at New York's Carnegie Hall), as well as many venues in Europe and Israel. He won first prize in the American Protégé International Piano Competition.
A graduate of The Julliard School, his performances have been reviewed favorably by The New York Times ("...romantic with a cool edge.") and Vanity Fair Magazine ("...not just technically impressive, but mature and beautifully shaped...").
Geography quiz: where is Grand Standard Time? Well, on March 9, 2014, it is in Sunnyside. Grand Standard Time is the vocal duo of Mia Rose and Tom Rhoades, who will take you on a tour of the Great American Songbook. Backed by piano, they sing and dance in song-celebrating costumes.
The Gothard Sisters bring their high-energy violins and lively Irish dancing to the Sunnyside stage on April 27, 2014. These three talented young ladies have recorded six CDs; their most recent, Story Girl, won the 2011 Celtic Radio's Album of the Year. The sisters also sing, play guitar and bodhran (an Irish drum), and tell stories. Their shows have been described as family entertainment at its best.
Music lovers who buy their season tickets before May 31, 2013 will save on tickets and get a bonus concert this spring. Season ticket prices are $55 ($50 early bird special) for adults, $125 ($115 early bird) for families (two adults and two children) and $15 for students 18 and under.
Single concert tickets are $30 for adults and $5 for students.
The Lower Valley bonus concert for early bird buyers will be an April 21, 2013 performance by the Yakima Youth Symphony Orchestra.
The Yakima Youth Symphony Orchestra is a complete symphony orchestra that was organized in 1965 and attracts students ages 8 to 21 from throughout the Yakima Valley
Another bonus of membership is that tickets are accepted at other community concert associations. So, admission is free to the Richland, Moses Lake and other associations.
All performances will be in the Sunnyside High School auditorium, which was recently renovated with new seats and improved acoustics.
To buy tickets, call 839-5222, 786-3070 or 882-1668. For more information, to get a ticket order form or to see video clips of performers, visit the association's new website at lowervalleyconcerts.org.