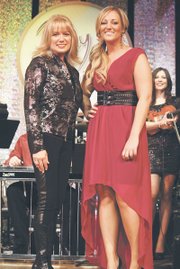 Sami Jo Sartin is remembered around these parts for her singing, rodeo skills and athletics at Sunnyside High School.
It's the singing that earned her a guest appearance on the Penny Gilley show on RFD-TV next Tuesday.
Gilley, whose country music variety show is in its sixth season, said Sartin is a natural.
"She did awesome," Gilley said. "She has a God-given talent and is just as beautiful on the inside as out."
Gilley said a friend of the family sent a CD of Sartin's music to her. Gilley put it on during a long trip to an event, knowing nothing about the singer.
"I ended up playing it over and over all the way there," she said. "Her voice just really, really captured my heart. There's just something in her voice that just drew me in. That's magic when it happens."
Sartin has been singing her entire life, according to her father, Ben Sartin.
"She would sing in the grocery stores, every chance she could get she would sing," he said.
The Sartin family attended the filming of the show in Grapevine, Texas, close to Dallas.
"We got to meet some really nice people in the fan club that travel around with her," Sartin said. "Penny Gilley is a nice lady, bless her heart."
His daughter also played on the high school volleyball team and was active in rodeo. Her skills at cutting cattle earned her fourth place honors in the nation in 2007.
Her father said she also was second in a talent show at the rodeo and performed at the National High School Rodeo Association's finals. In addition, she was frequently called on to sing the National Anthem at various rodeo events.
"Around here she's got quite a following," he said. "It's hard to go to Tennessee and suddenly you're a nobody. It's a difficult process, but she's been making strides."
Sartin has produced a CD, "Gypsy Soul," that's currently available and she is working on a second one. She writes her own music.
Gilley has been performing her whole life and uses her TV program to showcase up-and-coming talent.
"I use it as a platform to help others get started," she said. "To highlight young stars of tomorrow and give them a break and national exposure. When I heard Sami Jo's songs, I wanted to hear more. I wanted to help her. I was delighted to run across her."
Gilley said Sartin's future is bright.
"I think she's going to do great in the business," she said. "She has the talent, the whole package. I think she'll go far."
Sartin will be appearing on Gilley's show on Tuesday, April 9, at 1:30 p.m. However, producer Mike Stanglin noted that it is subject to being pre-empted by an auction during that showing.
Stanglin said the show will air for certain on Tuesday, April 9, at 11:30 p.m. and again on Sunday, April 14, at 11:30 p.m. The episode will also air later in the year, and is currently scheduled for the fourth week in September.
RFD-TV is available on channel 162 on Charter, 345 on DirecTV and 231 on Dish Network.