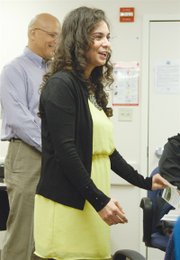 Sunnyside Transformation Yakima Valley's annual youth job and career fair is scheduled for Wednesday, April 24, from 2:30 to 6:30 p.m. at the Sunnyside High School auditorium.
The event helps students at the high school gain interviewing skills and food handler permits. It also offers some students a chance at a summer job administrated through Transformation Sunnyside.
The goal of the event this year is to provide 100 summer jobs for 100 students. The jobs will be at least 80 hours at minimum wage. The students are paid by Transformation Sunnyside, which needs $1,000 for each teen to handle all administrative tasks related to the hiring.
To make the goal a reality the organization is looking for donations, volunteers and businesses interested in hiring a student.
Donations in any amount will help cover the costs of the fair and the hiring. Donations can be sent to Transformation Sunnyside, PO Box 1570, Sunnyside WA 98944.
Volunteers are needed on the day of the job and career fair to conduct interviews and take notes on the students' answers. After the event, more volunteers are needed to review applications and contact students. To volunteer, call 509-836-0115.
Businesses that need a little summer help are asked to hire a student for a minimum of 80 hours over the summer. If a business wants to handle the hiring process they can do so, but Transformation Sunnyside will deal with the administrative tasks for a $1,000 donation.
"Right now we need more jobs for the students," said Roberto Matus, executive director of Sunnyside Transformation Yakima Valley. "This job fair gives our youth the skills they need to move forward and succeed in the business world."