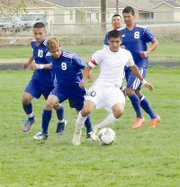 MABTON - This past Saturday's match between Mabton and Warden remained scoreless until the visiting Cougars got their first taste of blood early in the closing half.
Warden scored after intermission in the 43rd minute of the match, when Orlando Alba spotted a weakness in Mabton's defense and capitalized on a goal.
It took just five minutes for the Cougars to stalk another scoring opportunity and Alba, again, got the ball into the back of the net.
Mabton attempted to fight its way back and made some progress in the 59th minute of the match. That's when Crisantos Chavez wove the ball past the Cougar defense, and delivered a pass to Josh Carrasco, who capitalized on the momentum and shot the ball between the crossbars. The goal drew the Vikings to within 2-1.
Mabton Coach Junior Garcia said communication break-downs contributed to giving Warden the advantage.
The Cougars didn't waste any time and scored the final goal at the 60-minute mark to effectively keep the Vikings from winning the match.
"Mabton played well for most of the match," said Garcia.
He said the wind picked up speed in the closing half, giving Warden an even greater opportunity to move the ball toward the Vikings' goal.
"They took advantage of it," said Garcia, noting Mabton, however, needs to put goals away when it has a scoring opportunity.
"We didn't do that," he said.
"We need to find the chemistry because we're not getting anywhere," said Garcia, speaking of the communication breakdown on the field.
The Vikings (2-5) will tomorrow (Tuesday) host Highland.