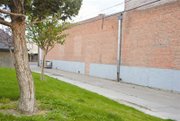 A revamped core with a nod to history is a well documented facet of a proposed downtown revitalization project for Sunnyside.
One of the design elements - "Neon Alley" - was the focus last night, Monday, during discussion by the Sunnyside City Council's subcommittee on public works.
Craig Hicks is one of the council members who sits on the sub-committee, and last night expressed a shared sentiment that the "Neon Alley" serve as a display area for Sunnyside's neon sign history. The neon signs are now in storage at sites around town.
With a tight budget, the plan under discussion would be to simply erect the neon signs along an alley behind Centennial Square. Hicks and the sub-committee agreed to propose seeking permission from the owner of the building adjacent to the alley to hang the signs. There was also discussion about first determining the stability of the wall before hanging the signs.
The downtown project is subject to first garnering grant/loan funds. "Neon Alley" would have to be self-funded aside from paving the alley and utility outlets provided by the grant/loan funds.
Interim City Manager John Darrington told the sub-committee last night that the revitalization project could possibly get started in about a year.
The subcommittee's next meeting will be Monday, May 13, at 5:30 p.m. at the Sunnyside Law and Justice Center.