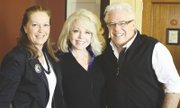 WALLA WALLA - At the Power House Theatre in Walla Walla, "Marilyn: Forever Blonde" star Sunny Thompson is quick to explain how Marilyn Monroe acquired the "wiggle in her walk."
The larger-than-life, on-screen actress became famous for her swinging hips. But legend has it, the sway in her step all started with uneven high heel shoes. The famous walk may have attracted her male fans, but it didn't do anything for her back.
But the actress playing the famous Marilyn in the Walla Walla production, Sunny Thompson, says she was recently treated to a lesson on what her feet can reveal, and what can be done to ease aches and pains. Thompson and her husband Greg, the show's director, were greeted by an old friend, Sunnyside reflexologist Jacqueline Lyczewski.
The Healing Soles Reflexology specialist in Sunnyside got the chance to travel to Walla Walla to see the couple. While there, she took in the show and shared her reflexology knowledge with the two.
"They were surprised about the different health issues one is able to tell just by looking at the feet," Lyczewski said. "I explained to them all the benefits of the holistic modality and demonstrated on them both; they thoroughly enjoyed their mini sessions."
Following the treatments, Lyczewski said even after swaying and swinging on stage, Mrs. Thompson reveled in how good her feet felt.
"Reflexology is reaching out more and more to a lot of people," she added. "You never know who you'll have the opportunity to provide your service to...maybe even Marilyn Monroe."
Lyczewski is now available to Lower Valley residents who want to learn more about the reflexology treatments at two locations, in Sunnyside and Prosser.
Appointments for consultations with the local reflexologist can be made by calling (509) 840-2599.