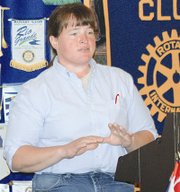 Sue Bird, a maintenance technician with the Yakima County Noxious Weed Board, updated Sunnyside Rotarians Monday on the Class A and B weeds that have made the board's "least wanted" list.
Noxious weeds are defined as invasive plants that are so aggressive they can harm local ecosystems or damage agricultural production. They are divided into three classes by the state of Washington.
Class A weeds are rare but have a lot of potential to do damage if they spread. They are the top priority of the control board, because they can possibly be eradicated.
Class B noxious weeds may be abundant in some areas, but rare in others. They are still non-native plants, but the goal of the board is to remove as much as possible and prevent them from spreading.
Class C noxious weeds are widespread enough that attempts to control or eradicate them are unlikely to succeed. Instead, the board tries to educate landowners about them and develop long-term control plans.
Bird said the current class A list includes Dyer's woad, wild four o'clock, oriental clematis, buffalobur, johnsongrass, Texas blueweed, velvetleaf and French bloom.
Oriental clematis, an ornamental vine, is a particular concern. Bird said a patch of the plant was found in Zillah. The board sent specimens to a lab to confirm what plant it was.
"We heard back, 'get rid of it yesterday,'" she said. "It's so aggressive, so destructive, we needed to control it immediately. It will kill trees."
She said the patch in Zillah wasn't immediately noticed because it doesn't bloom until summer and the board didn't have enough people out to spot it during the time it was blooming.
Bird also said that it appears buffalobur is being introduced in bird seed.
"Most of the reports we get about it are people who notice this strange plant growing under their bird feeder," she said.
Whether the plants are brought in accidentally or intentionally planted as ornamental, they can cause havoc locally. Bird said yellow starthistle is poisonous, but only to horses.
"It's gradually moving down the valley," she said. "We may never eradicate it, but we need to spread awareness."
Another dangerous plant is houndstongue, which is toxic to animals and builds up in an animal's system until it kills them. The seeds stick to anything and Bird said she's found the plant all around the county.
The danger is real. Bird related several stories of livestock killed by plants. Sometimes the owners of the livestock had no idea the plants were growing on their land.
"We need to educate landowners," Bird said. "That's the only way to control these weeds."
The control board will help landowners control or eradicate many noxious weeds for free.
For more information about noxious weeds in Washington state, visit http://nwcb.wa.gov online. To report a noxious weed or get specific information about noxious weeds in Yakima County, contact the control board at 509-574-2180.