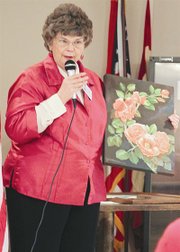 PROSSER - When Barbara Peterson was about 40 years of age, she says her husband of 20 years decided he wanted out.
"I had been a faithful wife, supporting and encouraging him in all his endeavors," she told Lower Valley Christian Women's club members yesterday at the monthly luncheon meeting in Prosser.
The budding artist told the local Christian club about her love of painting, and how she came to love roses, so much that roses are what she paints.
She recalls the devastating experience as being in great anguish and in the midst of soaking her couch with tears of sorrow...the door bell rang.
"With swollen and red moistened face I went to answer the door. My neighbor who I did not know personally (only his wife), had been working in his back yard rose garden and something prompted him to deliver to me his biggest prize pink rose," Peterson added.
"He had no idea what I was going through, but God did."
After nearly 20 years, Peterson ponders why she loves roses so much, and says when she thinks about why, her memories take her back to that day when she was reminded of God's love for her.
"So, I honor God with painting and sharing one small part of His creation," she said.
The artist's work can be found online at www.harbor-rose.com.