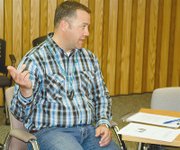 A team effort by scientists, the Yakama Nation and irrigators among others is making a difference in Yakima River fish counts.
That was the report yesterday, Tuesday, by David Child, a Yakima Basin Joint Board fish biologist.
Child shared the findings during the Sunnyside Division Board of Control's monthly business meeting.
"It's a good time to pat yourselves on the back," Child told irrigators. "With this collaboration we're getting somewhere."
Child, who works with SVID and irrigation districts on fish-access issues - such as installing fish screens - then produced some numbers to show what has been accomplished.
He noted that 2012 marked the fourth consecutive year for adult salmon returns to the Yakima Basin to number more than 15,000.
That's a far cry from the late 1990's when the total number of adult salmon runs in this basin averaged less than 5,000 per year. Child noted that in the early 2000s the Yakama Nation's fish hatchery in Cle Elum began its efforts to help replenish salmon in the basin.
Those efforts plus work by irrigators to ensure fish passage through their systems has brought back salmon runs in a big way.
Perhaps the most significant success stories, according to data Child provided, is the return of Coho Salmon to the Yakima River. In 1984 there were no adult Coho returns in the river counted at Prosser Dam. By contrast, there were more than 4,000 in 2012. That number was down from 6,424 adult Coho counted at the Prosser Dam in 2011. Child said there are some fluctuation in fish counts from year-to-year, depending on ocean currents and conditions.
The bottom line, though, is that salmon are finding their way back to the Yakima River Basin.
That's true also of adult Steelhead returns to the Yakima River counted at Roza Dam. Child noted that prior to 1996 there was no passage for fish at the dam. Those passages have since been restored and the result is a rise from 23 adult Steelhead in 1996 to a record 413 counted just last year.
Steelhead returns counted at Prosser Dam also remains strong, as 2012 marked the third consecutive year for adult Steelhead runs to number more than 6,000 at Prosser Dam. "Those are all-time records," he says of adult Steelhead numbers at Prosser Dam. "That's something we haven't seen."
Child told irrigators that the work isn't done yet, as the Yakama Nation also seeks to grow the number of Pacific Lamprey in the basin. A culturally significant species to the Nation, Child said talks are underway to see what irrigators can do to improve lamprey numbers in the river.
"The irrigators will likely be engaged in fish screen improvements, fish passage alterations and in biological monitoring efforts," Child says of efforts on behalf of the lamprey. "I hope we can work collaboratively together to rebuild lamprey fish runs and avoid an ESA (endangered species) listing."