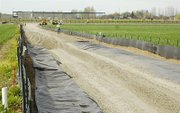 Traffic on Hwy. 241 is experiencing slow-downs these days as crews are busy getting the groundwork ready for a new weather observation station at the Sunnyside Airport.
The most visible portion of the work now is construction of an access road off of the local highway.
One of the partners in the project is the Port of Sunnyside, which provided the city an easement for the access road and, eventually, the observation system.
The Port also assisted Sunnyside in obtaining a grant/loan package from the county to help fund the city's costs associated with the largely federal-funded project.
Jed Crowther is the port's property development and project manager, and he says the port's land was needed because federal regulations stipulate that the automated weather observing station (AWOS) be placed exactly 500 feet from the airport's runway.
"They looked to the south and couldn't position it there," said Crowther.
For Sunnyside's airport, then, that meant the city would have to locate the AWOS to the north of the runway and thus needed an easement from the Port of Sunnyside to access the property.
The access road now under construction will provide a way to not only maintain but to install the AWOS system, which when completed will sit on a 30 to 33-foot high tower.
Shane Fisher is Sunnyside's public works superintendent, and he said it will likely be July or August when the AWOS equipment is installed. That's because of the amount of time required for ordering, receiving and installing the AWOS per FAA requirements.
The Sunnyside Airport's AWOS system, when up and running, will give the Lower Valley its own weather observation system for pilots. The Lower Valley was deemed to be the site for a station because of the potential for cloud cover and isolated thunder and lightning that may not be visible to pilots coming from Yakima or the Tri-Cities.