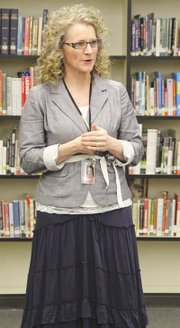 GRANDVIEW - Genocide, bigotry, racism, scape-goating and name-calling were many of the words laid out in black and white at this past Monday night's Grandview School Board meeting.
Despite a lack of quorum at the meeting, school board directors and district administrators heard about the success of Harriet Thompson Elementary School's holocaust education series. They were also asked to participate in an exercise that the school does with children during the holocaust education period.
With many words of hate, school board members and attendees at the meeting were asked to give opinions on which words were the most severe acts of hate. The agreed-upon worst was genocide, but as explained, the exercise helps students realize that many of the acts of hate are everyday occurrences, such as scape-goating and name-calling.
Last year's event included a visit from Seattle's Holocaust Resource Center. The center heard about Harriet Thompson's Elementary program and decided to record the school's efforts along with student and teacher comments on how the activities and lessons of the holocaust have impacted them.
With survivors speaking at the annual event in Grandview, Principal Julie Wysong says the sessions "bring history right in the classroom."
The video will be shown Oct. 31 at the Seattle Holocaust Resource Center's fundraising banquet. Also, Wysong and teacher Talia Stewart have been asked to give a short presentation at the fundraising event about their school's annual program.
"This has taught us that lessons of the holocaust are relevant today," Wysong concluded.