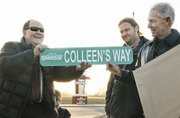 GRANDVIEW - Colleen Byam had been an integral part of the Port of Grandview for many years.
Though some of those years the port was without offices, Byam's visitors may have had no idea.
"She would just say, 'hey, meet me at the Chevron and we'll go from there'," Port of Grandview Commissioner Dr. Ron Grow said. "And they had no idea we didn't have an office."
Byam was active in economic development in Grandview and served as a Grandview Port commissioner for 18 years. This past Wednesday night Byam, who passed away in 2011, was lauded for playing important roles in helping attract the Wal-Mart Distribution Center, Yakima Valley Community College and several other entities to Grandview. She was said to have been an important part of creating many new, well paying jobs for the area.
"Job creation was always a goal she had in her sights," Grow added.
This past Wednesday night Port of Grandview officials rededicated the area business park as Byam Business Park, in honor of Mrs. Byam. Grow also jokingly re-named Wallace Way, where the new Port of Grandview sign sits, "Colleen's Way."
After being presented with the road sign, her husband Dennis Byam recalled, "It really was always Colleen's way, or the highway," he said with a smile on his face.