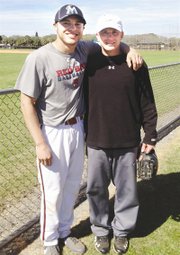 The only thing normal for Gibby Briones these days is the city where he'll make his professional baseball debut - Normal, Ill.
Briones, a 2008 Sunnyside High School graduate, recently signed his first contract to play pro ball with the Cornbelters, an Independent League team near Chicago, Ill.
It's an exciting time for the former SHS diamond standout, who played college ball at YVCC and later Kentucky before making the move to pro ball in the Independent League, which is sponsored by Major League Baseball.
The Cornbelters open their 2013 season next month, and the opportunity came Briones' way after a circuitous route of try-outs in Detroit, Mich. and in Florida.
Briones essentially had one day to make a name for himself during the Detroit try-out. His fielding stood out so much that he was invited to a two-week try-out camp in Florida in February.
He said scouts from every Major League team were at the Florida camp except the Yankees.
Briones, who plays shortstop but has the versatility to play in the outfield, was signed to a contract about a week into the Florida try-out.
"They told me to stop diving because they didn't want me to get hurt," Briones says.
Indeed, an injury now would be devastating for the Major League hopeful. His contract with the Cornbelters is a month-to-month situation. While an injury could sideline his budding career, a strong start in Normal could pave the way for advancement to single-A baseball and beyond.
Briones also admits his long and winding road to pro ball is self-inflicted.
"I was a menace in high school and selfish in college. All my life everything was about me, until now," he says.
Briones says he didn't listen to SHS counselors who advised him to work on his grades and take the SAT.
As a result, he lacked the academic credentials to enroll at a major university. That, in turn, robbed him of the chance to play on a big stage like the Pac-12 - and the accompanying baseball draft and minor league contracts that are offered to successful college players.
It's a life-lesson Briones is reminded of every day as others his age who played major college ball are already at single-A and beyond.
It's also a lesson he heard first-hand from former baseball great and World Series MVP David Eckstein, who visited the Florida try-out camp.
"He told me he wished he had my skills," Briones said of his visit with Eckstein. "But he said it's not all about talent, it's about persistence. If I fold during adversity then I'll fail."
That lesson of attitude being just as important as talent - if not more so - is something he hopes to share with youngsters here in Sunnyside before he leaves for Illinois in a couple of weeks.
"I want kids to learn from my experience," says Briones. "I didn't let go of my dream and I don't want them to either."