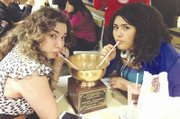 BREMERTON - More than 30 students from Sunnyside last Friday and Saturday competed at the Washington State Science and Engineering Fair held at Bremerton High School.
The group of students representing Sunnyside High School tallied the highest points, earning what SHS Science Teacher Joyce Stark said is a coveted award. That would be the Traveling Trophy.
She said SHS had the honor of holding the trophy two years ago and the students are happy to have it in their possession again.
Students earning top honors at the state competition included Trajen Frank of SHS and Michael Condie of Harrison Middle School. Sunnyside High School's Gabriela Estrada won top honors for her science project in addition to special awards from the Washington State Association of Fire Marshals and Wolfram Mathematica.
Sarah Berumen, who qualified at the Mid-Columbia Regional Science and Engineering Fair for the International Science and Engineering Fair to take place in Phoenix, Ariz. May 12-18, earned top honors at the state competition. She also earned special awards from the U.S. Army and Wolfram Mathematica. Berumen was presented a NASA Space grant and a scholarship from Ohio Wesleyan.
Earning a Wolfram Mathematica award, as well as top honors for her project was Gardenia Contreras of SHS.
Sunnyside Christian High School student Zack Halma also earned top honors for his project. He received an invitation from AMEC to provide a presentation at a geology meeting. The U.S. Army and Wolfram Mathematica awards were also presented to Halma.
Earning runner-up honors, as well as the Stockholm Water Prize for her project, was SHS student Payton Sample.
Runner-up honors were also garnered by SHS students Mariana Gonzalez, Xavier Hernandez, Jasmine Paxton, Lindsay Schilperoort, Jasmine Starke, Victor Vargas, Aaron Andrade, Thalia Borja, Juan Casas and Crystal Cruz.
At the state competition, third place honors were presented to Sunnyside High School students Maria Alvarez, Cecilia Espinoza, Jayleen Leon, Jacqueline Limon, Mattalynn Meyers, Alexis Osuna, Jasmine Gonzalez, Angelica Mercado, Stanley Martinez, Claudia Rivera and Anthony Chavez.
Also awarded third place honors was Vianca Herrera of SHS, who was presented a special award from the Washington Oral Health Foundation.